The Brewcity Fire Brigade offers high-quality fire performances to fit any social occasion. From casual cook-out to a glamorous evening soiree we will customize a fire performance that will stun and amaze your guests. Our experienced troupe of fire performers includes: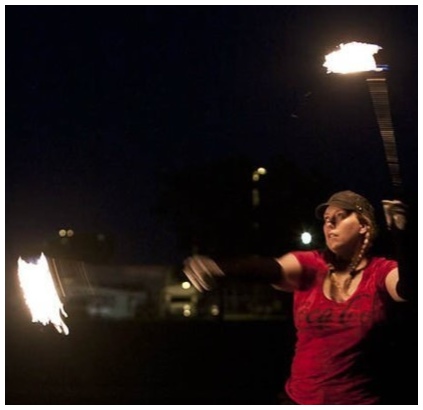 Methyl Ethyl
In nuanced, technical flow interspersed with staccato burst of pure conflagration, Methyl Ethyl creates a spectacular show of flames with a variety of object and fire manipulation techniques. Favoring lyrical interpretation and illusory motion while creating mesmerizing choreography rendered with whimsy, humor, and pathos.

Skills: Poi, Rope Dart, Leviwand, Snakes, Fans, Fire Fleshing and Eating, Fire Breathing.
Fire Brigade Trivia: Methyl Ethyl solvents are highly flammable; Methyl Ethyl Death is first responder slang for a dangerous chemical spill.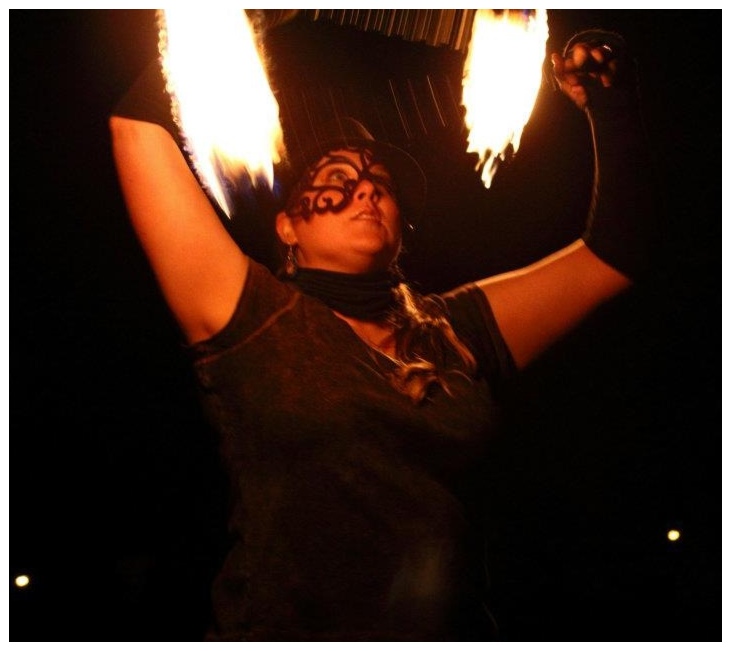 Halligan
Named for the versatile fire fighting tool, Halligan is a "reformed" second-generation Fire Fighter. With an undeniable allure to the primal grace of the flames, that is tempered by reverential respect Halligan reveals her complex relationship to the flames during each performance.
Skills: Poi, Rope Dart, Fans, Staff, Fire Whip.
Fire Brigade Trivia: A Halligan bar (also called a Hallagan tool or Hallagan, and is often referred to as a Hooligan Tool in various British and Australian fire services) is a forcible entry tool used by firefighters.
"Halligan's fire dancing was AWSOME. She managed to be both graceful and totally bad ass.

-Cathy Jakicic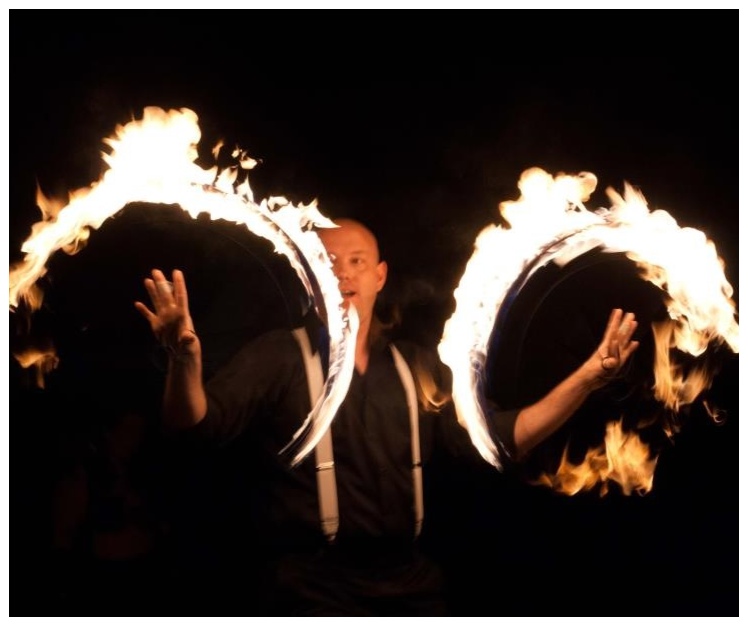 Mr. Fahrenheit
"I'm gonna go go go there's no stopping me

I'm burning through the sky, yeah

Two hundred degrees that's why they call me Mr. Fahrenheit."
- Queen, "Don't Stop Me Now"
Skills: Poi, Snakes, Fans, Staff, Orb, Whip, Fire Breathing.
Fire Brigade Trivia: In the dystopian novel Fahrenheit 451, firefighters of the future burn down houses which are suspected of containing books. Ray Bradbury's title refers to 451 degrees as being the auto-ignition point of paper --- the temperature at which it will catch fire without being exposed to external flame.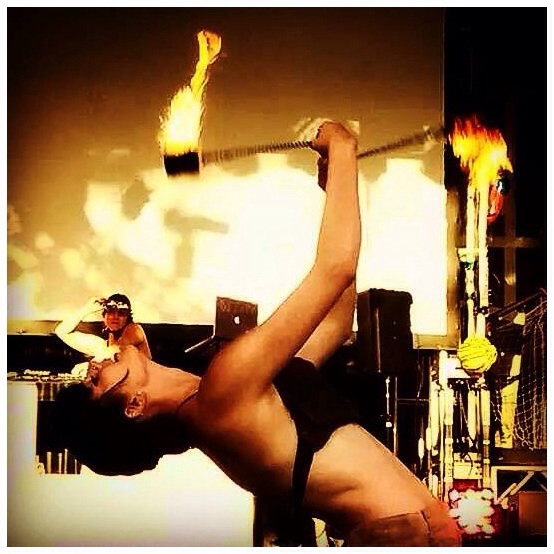 FyrePhly
FyrePhly has been dancing since the age of three. Her first style of dance was ballet and it took off from there: bellydance, jazz, tap, modern, hip hop and allegro. For several years she taught veil dance with Milwaukee's
Gypsymoondance
where her teaching has focused on the use of props as an extension of the dancer. FyrePhly's performances are known for the integration of electronic music with both fire and non-fire object manipulation.

Skills: Poi, Fans, Levitation Wand, and Orb.

Fire Brigade Trivia: When luciferase was first discovered, the only way to obtain the chemical was from fireflies themselves. Today, synthetic luciferase is available, but some companies still harvest fireflies , which may be contributing to their decline.